Black Clover Chapter 242 Release Date: Recently, Black clover manga series creating so suspense that it's hard for fans to handle. Dark triad attacked at the same time on all countries.
Join Our Telegram Channel & Get Fast Update/Alerts
join our telegram channel for Black Clover Manga live updates and release alerts
Like Zeno attacked Clover kingdom and defeated Yuno, he even nearly killed Yuno and defeated Golden Dawn captain William.
Another member attacked the Heart Kingdom and his motives are same kill the King and rule the country. So, she is here to kill Loropechika.
On the same Dark, Triad king Dante attacked Black bulls base in order to kill their Captain Yami. But it seems he not there and now Asta and others facing him.
And the ending of this chapter is so intense that after reading you also cannot able to hold yourself for the release of next Black clover chapter 242. So, let's began with a review of this chapter and see what's you are going to find in it.
Spoilers warning, there are many spoilers ahead in the article and if haven't read that chapter yet and want to get spoiled before reading it then stop here. But if you want mind spoilers then welcome.
You can officially read Black Clover Chapters here
Chapter 241 review,
It's like Dante and Yami have some past connection and he doesn't like Yami that's why he was arrived to kill him. It's also possible that Dante or Dark triad members are from the same place from Yami is.
Asta and Dante's midair battle began,
And here Dark triad King Dante's magic revealed it's Gravity control. That's enough to say why he was levitating in the air.
Coming back to the fight, he used his gravity magic on Asta to bring him down but Asta's anti-magic neglected the gravity and attacked with the sword.
Then Dante used trees to attack but Asta got saved by Veronica's cat (as we know what's her powers). It felt Dante some strange that a spell interferes with natural laws.
So, he cut the chase and goes for the cat magic owner Veronica.
He was so influenced by Veronica's magic that he asked her to join Dark triad and be his woman.
After hearing that Dante is from Dark Triad, Asta transformed into his devil form.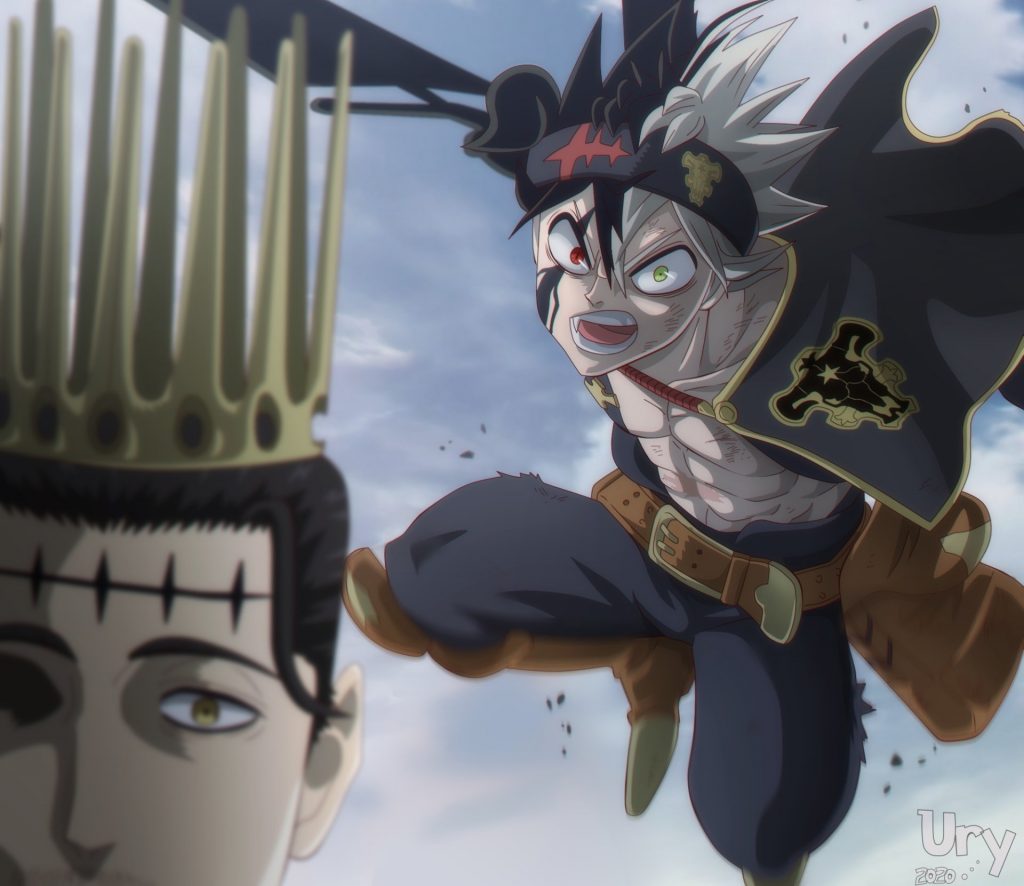 Dante got surprised that someone in clover kingdom also posses Demon powers, but still, his powers are so high that Asta can't even able to hit him once.
then Gauche mirror magic wielder used his mirror brigade to clone Asta, so he can attack from every direction. And it's like scared Dante a little bit or maybe he's just surprised Black bull member's power.
We don't know what was that expression scare or surprise because this chapter ends here.
Black Clover chapter 242 Predictions,
It seems like Dark triad king Dante just playing with Black bulls as he is so powerful. And soon we are going to see Asta and others are in a dangerous situation.
Dante vs Yami fight coming!
Dante is here for kill Yami and as I said above their connection is still unknown so maybe in the next few chapters we are going to see Yami and Dante flashback, and how he knows Dante.
Black Clover Chapter 242 Release Date
Countdown time to Live English Black Clover Manga Chapter 242 Release:
Black Clover chapter 242 is ready to release this week's Sunday, 8 March 2020. but you can read Black Clover chapter 242 earlier as it scans out 1-2 days earlier.
Join Our Telegram Channel & Get Fast Update/Alerts
Where to read Black Clover Manga Chapter 242
You can read Black Clover chapter 242 officially on viz media's site. After it's release it will also be provided on the Mangaplus app and Shonoen app there you can read Black clover Manga free.
You can also read it on many unofficial sites like mangareader, foxmanga and many more or just google it but I suggest you read it on the official site to support them.
That's all guys, hope you like the article, if you loved this one then share it with your manga or anime lover friends. And don't forget to comment below what you think and your predictions about Black Clover chapter 242.