Boruto Chapter 46 Release Date: Boruto manga grabbing attention as it's storyline getting mindblowing chapter after chapter. Fans who are thinking Naruto next-gen series are trash, now can't stop admiring it's plot twists and suspense.
Join Our Telegram Channel & Stay Updated!
join our telegram channel for live Boruto manga updates and release alerts
Even recently released chapter was so amazing that after reading it you will be speechless and will be so much excited that you can't hold yourself for next Boruto chapter 46.
Previously released chapter 45 revealed so many events that after reading it you will be shocked. The chapter takes place where it was ended last time.
Warning, there are spoilers ahead in the post and if you don't want to get spoiled before reading the chapter then I suggest you stop reading here. But if you don't mind spoilers like me then welcome.
Guess what!
You can officially read Boruto chapter 46 here
Boruto Chapter 45 review
Amado used Shikadai for blackmailing Hokage and Shikamaru so they don't attack him and patiently listen to what he has to tell them.
He will provide every information that he knows about Kara and Jigen.
In return for this intel, they have to provide defection to him.
At first, I also don't know what the hell is "defection". But don't this word also described in the next page of the chapter.
When Sumire told Boruto the meaning of defection after asking it.
It simply means Amado wants Konoha citizenship and protection.
Konoha agreed to listen to him up.
After this scene changed to Kara HQ, Another member of Kara introduced named Code and he is guarding Jyubi (ten tails).
Jigen talking to him about Konoha intel about this place then hang out as he was talking via some kind of virtual hologram calling system.
As soon as Jigen hangs up, Kashin Koji standing in front of him.
The scene got back to the Konoha Amado is in Konoha's interrogation room.
And I must Amado has some nerve, He opens his mouth asking for smoke and even taunted Shikamaru about Shikadai.
Here it is revealed by Kawaki, Amado is head of Kara's research and development division and Jigen never let him out of the lab because he knew everything about Kara and Jigen.
And he is doing it means his life on stake.
After some chit chat, Amado is now ready to tell Naruto everything.
But the scene changed back to Kara HQ at Jigen and Koji's conversation. Kashin asked why he appointed a task that he can whenever he wants.
Jigen told him about his suspicion of someone in Kara who is betraying him.
Kashin Koji implanted a frog to live to stream their talk to Amad's eyeglasses.
Meanwhile, Amado told Naruto and Sasuke about Ohtsutsuki, and JIgen is one of them. And how his planing to destroy the planet. He also told them about ten tails.
Then Amado got the live video transmission alert from Kashin Koji's frog.
So, he asked Shikamaru to put down his eyeglasses towards the wall.
Now they also see the live transmission from JIgen and Kashin's conversation.
It is revealed here that Kashin Koji and Amado are the ones who let Kawaki escape as well as provided hints for Sasuke for all of this.
Then Kashin Koji and Jigen's battle began. But guess whats chapter ended here. We have wait for the release of Boruto Chapter 46 till next month.
Boruto Chapter 46 Predictions
Chapter 46 of Boruto manga will continue a version of Jigen vs Kashin Koji. But we all know what's going to happen, Jigen will be won this fight since we had seen how strong he is.
But due to his previous fight against Naruto and Sasuke, he weakened and that's what Kashin Koji of thinking.
It's also possible that Koji's real identity will be revealed in the next chapter so, be ready for it. Most fans think that he is Jiraya sensei.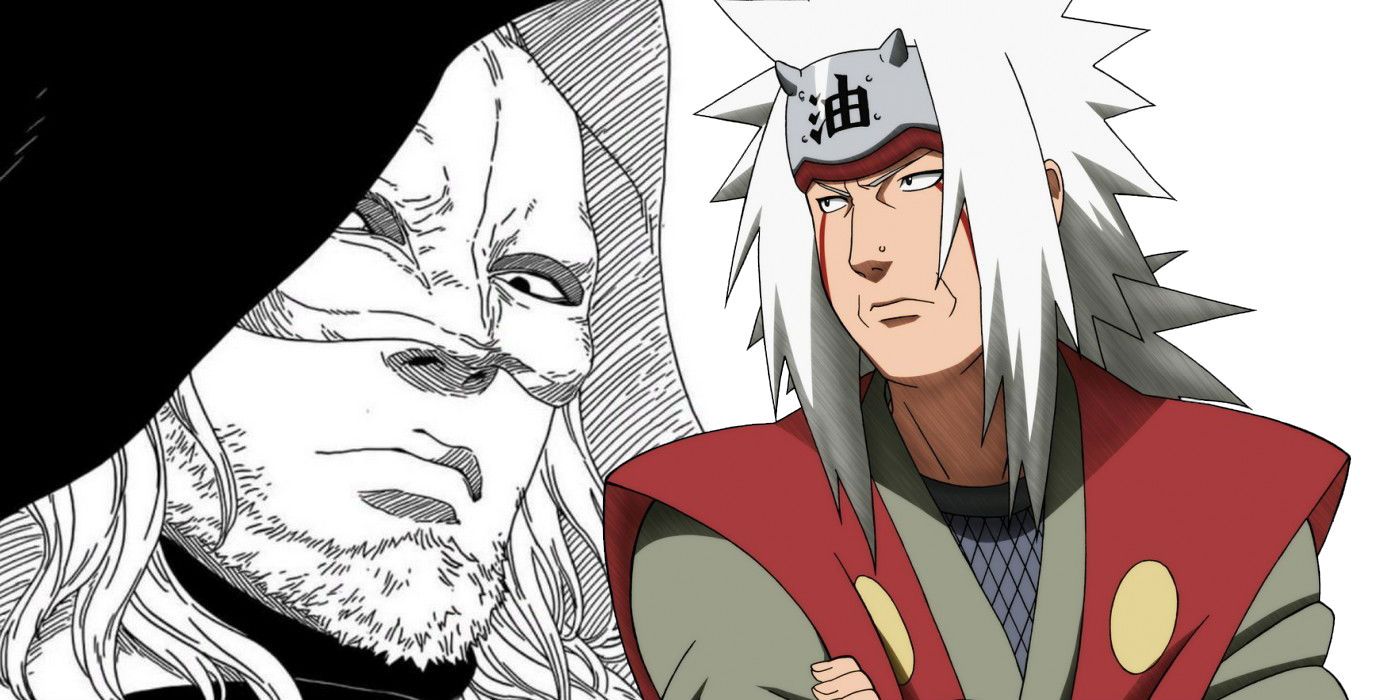 Maybe he is or maybe not?
What do you about it, let me know in the comments.
Boruto Chapter 46 Release Date
Countdown time to Left Boruto Manga Chapter 46 Release:
Boruto manga chapter 46 will release on Wednesday, 20 March 2020. You can read Boruto chapter 42 after the countdown hits zero on the official viz media website.
Join Our Telegram Channel & Stay Updated!
Where you can read Boruto Chapter 46
You can read Boruto chapter 46 officially on viz media's site. It will be also available on Manga plus and Shonen Jump's app after it's release.
---
That's all guys, hope you like the article, if you loved this one then share it with your manga or anime lover friends. And don't forget to comment below what you think and your predictions about Boruto chapter 46.